An accounting firm that allows you to "rent" financial service professionals, while providing excellent in-house services. Whether you need a CPA or a CFO, an accountant or a bookkeeper, White and Associates is ready to assist your business in getting its finances back on track.
We exist to help our clients accomplish their goals by providing the highest quality CPAs, CFOs, accountants and bookkeepers, whether for rent or for in-house care. We understand that attention and personal care for every client is critical to our shared success. We will earn your trust with industry leading service and value.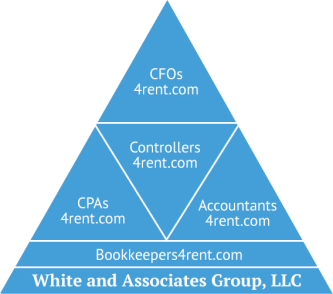 Seasoned professional with hands-on corporate management in Accounting and Finance, Information Technology, Cost Accounting, System Design and Implementation.
Start-Up – Experience in international environments in American Samoa and Brazil. Implemented accounting system procedures and policies in American Samoa for a wireless start up. Brazilian start-up grew to 300 employees in 3 years
Form 10 – Experience in taking a small company public under the '34 Act
IPO – Experience in taking a $300 million in revenue, multi-state company from initial filing to registration in 90 days under the '33 Act
SEC Reporting – Experience in quarterly, annual and compliance reporting as required by the SEC
Cash Management – Experience in international banking with Banco Pine, Banco Boston and Banco Bradesco in Brazil and negotiating letters of credit with Central Bank of Brazil
Cash Management – Experience in managing an administrated $500 million line of credit with a consortium of 20 banks
Budgeting – Experience in preparing budgets domestically and internationally in different currencies and working with all levels of management
Forecasting and Modeling – Prepared both domestic and international "what if" forecasts and financial models including acquisition models designed to identify and target cost savings
General Accounting – Prepared consolidated statements in various currencies, supervised all areas of accounting, accounts payable, accounts receivable, fixed assets and general ledger
Forensic Accounting – Recreated auditable records of a bankrupt company
Software implementation-installation